"One of the many gifts that our Elders have passed on to us is making sure that we take care of others, especially those who cannot take care of themselves," said Sheri Buretta, Chairman of Chugach Alaska Corporation's (Chugach) Board of Directors and Interim Chief Executive Officer (CEO). "I grew up in Anchorage and spent summers in Tatitlek, and I remember the importance of village members coming together to share with each other and make sure no one went without. Looking back over the last 50 years, I think that's one of the reasons that our corporation has such strong community involvement."

Driven by Chugach's Core Behavior of We Build Community, Chugach shareholders and employees always stive to build and improve the communities where they live and work. In 2020, this generosity led Chugach and its employees to give nearly $350,000 to community non-profits.
For more than a decade, Chugach's largest employee effort to build community has been support for the Alaska Run For Women (AKRFW). The high-tide mark for Chugach's AKRFW fundraising surpassed $20,500 in a single year. In 2020, during the height of the COVID-19 pandemic, Chugach's AKRFW fundraising total fell short of the campaign's historic milestone, but COVID did not completely come between our employees and raising funds for the race to defeat cancer.
While meeting the challenges of COVID-19 and social distancing, Team Chugach raised more than $12,500 for the AKRFW in 2020, and as the world edged back toward normal, Team Chugach's 2021 fundraising followed suit and rose nearer to the previous all-time high with a total of $17,215.
Chugach employees can walk as well as run. Support for the Alaska Heart Walk (AHW) has also become a strong tradition for Chugach employees. During our last AHW fundraising effort, Chugach set a $5,000 donation goal and blew past that mark and raised more than $6,500 for the battle to defeat heart disease.
The best organizations lead from the top, and that has certainly been the case for Chugach and its community commitments. Chugach's executive teams are enthusiastic participants in all of Chugach's community-building efforts, but they go above and beyond each year and brave a cold night outside in November to raise funds for Covenant House Alaska.
During the Great Alaska Sleep Out, Chugach executives spend an evening outside to raise awareness about Covenant House's mission to provide shelter to homeless or at-risk youth in Alaska. But it's more than sleeping out, it's about raising funds to help Covenant House sustain their goal of keeping children off the streets and place them on a path toward a better life. Thanks to the efforts of our leadership in 2020, Chugach raised nearly $32,000 for the largest provider of services to homeless youth in the state of Alaska.
Chugach employees rallied around the people of Nanwalek, a small village in the Chugach region, which suffered a heartbreaking tragedy when one of the community's teachers perished in a home fire. With a population of approximately 200 people, the loss of any community member, especially one so connected to its children, touched every resident of this remote village. Nothing could replace the loss of Nanwalek's beloved teacher, but Chugach employees did what they could to bring some much-needed holiday cheer to the students he left behind.
Members of Chugach's engagement team organized an Amazon gift list for the 79 children who make up the Nanwalek student body. The call went out and the list was shared with the Chugach employees, and the call was answered. Through the incredible generosity of Chugach employees, five days before December 4th, the last day for purchases to be made and mailed to Nanwalek in time for Christmas, every gift was purchased and sent on its way to the children of Nanwalek.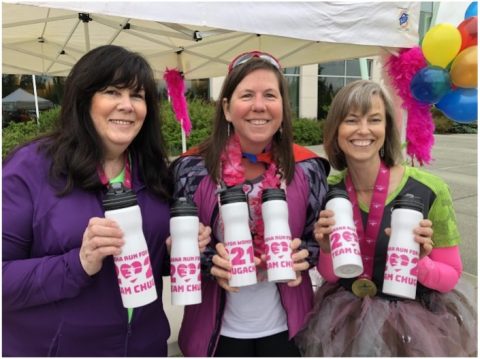 Chugach's engagement team is continuing this support for our regional communities in 2021. For the isolated villages of Tatitlek and Chenega, a trip to purchase school supplies involves a trip across Prince William Sound on a chartered flight or a five-to-six-hour boat ride (one way). The challenges of COVID-19 and the risk of bringing the virus back into the villages further complicates a Tatitlek or Chenega school supply run. Chugach is running a school supply drive for the students in these communities to ensure they have all the tools needed for a successful school year.
2020 will go down in history as one of the most challenging years in the modern era, but from start to finish, the Chugach employees rose to the challenge, and met and surpassed longstanding and new community commitments. They even took on the role of Santa and made Christmas a little merrier in a small, remote village on the southern tip of the Kenai Peninsula. The landscape of philanthropy looked different for Chugach during the pandemic, but the dedication and compassion of our employees still made it happen, just as it has for the past five decades. "Chugach is proud of the company we've become over the last 50 years and what we have accomplished in the communities that our shareholders and employees are a part of," said Sheri Buretta.
"With more than 5,000 years of history and holding to our cultural values, our goal is to be a for-profit company with a non-profit mission," Buretta continued. "Our first priority is to advance the shareholders we serve, but as we've matured as a company and expanded to contract sites around the world, we've come to realize that our purpose now goes beyond serving our shareholders. Our village has grown to include our employees, our clients and all the communities that they and we call home."